May the God of hope fill you with all joy and peace as you trust in him, so that you may overflow with hope by the power of the Holy Spirit.     Romans 15:13 (NIV)
The story of what God continues to do in Cuba is a story of HOPE and JOY, in spite of constant oppression and sacrifice. I trust this latest update of my visit last month to the "Good News" churches in central Cuba will fill you with hope and joy. It's your prayers and gifts that make this ministry possible, thank you!
Cuba ~ "Buenas Nuevas" National Youth Leaders Conference
More than 200 youth leaders and pastors of the "Good News" churches in central Cuba gathered in the newly expanded church in the city of Remedios.  It was especially meaningful to be a part of this conference since the GRM family gave substantially to the construction of the new building. Thank you!
Pastor David Moreno, President of the Open Bible Churches in Cuba, joined us for the conference and challenged us all to serve God passionately. We also spent time building up the ones that were weary and discouraged. It was an amazing time in God's presence where everyone received a fresh dose of true joy and hope.
Palm Sunday in Sancti Spiritus, Cuba
My parents, Paul & Vera, began this church in 1953 and it's always a joy to visit with my Cuban family here. The church was filled with children who led us in a beautiful worship service. The highlight of my trip was sharing the message on such a special day.
 Visiting lifelong friends and making new ones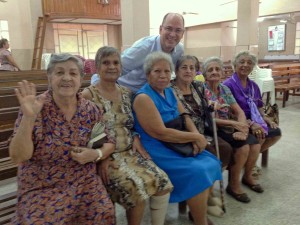 These young ladies in the photo to the right are original members of the first "Good News" church in Sancti Spiritus. They helped my mom to raise my three sisters and love to tell me how much I look like my dad. These dear sisters are the picture of faithfulness, hope, and joy.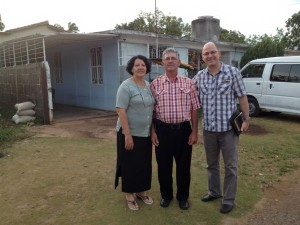 One of the largest provinces in Cuba is Matanzas, just east of Havana. There are two new "Buenas Nuevas" churches there and I had the huge privilege of visiting them both. Pastors Arturo & Ofelia in the photo on the left live in Torriente, Matanzas. Their congregation meets in that little carport behind them to the left. You really get to experience the world famous Cuban warmth in these small meeting places!
And this couple on the right are Pastors José & Yamilet in the town of Jovellanos, Matanzas. They recently built a new church right in the middle of a neighborhood known for its occult practices. God has helped them gain the trust of the people and they shared many stories of how people are discovering joy and true freedom in Jesus after years of abuse and confusion in the darkness of Santería.
Please pray for these couples and their churches—they are the real deal on the front lines.
Returning to Cuba in June
This is proving to be a year of wide open doors to Cuba. In June I'll be going again, this time Elizabeth and our boys will join me—and that has been my prayer for a long time. Your financial support is blessing and equipping countless lives in Cuba for Christ. Thank you!
Please Keep Praying for Cuba
Your brother,
John